Seniors can apply to have a PSD Seal of Biliteracy on their diploma. Application deadline is Oct. 31.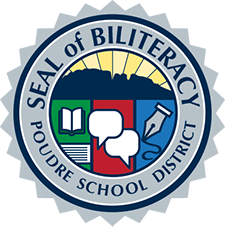 Graduating high school seniors who are highly proficient in another language can receive the PSD Seal of Biliteracy on their diploma. 
The PSD Seal of Biliteracy is a prestigious credential for graduating high school seniors who can read, speak, listen and write at a high level in another language, as well as in English. The endorsement honors students who have studied another language, as well as those who have grown up speaking a language other than English.
Seniors interested in graduating with the Seal of Biliteracy endorsement must apply by Oct. 31.
Approved seniors will receive the PSD Seal of Biliteracy seal on their diploma and an honor cord to wear at their graduation ceremony. Their PSD official transcript will document the PSD Seal of Biliteracy endorsement.
Eligibility requirements, the application and more information are available on the PSD Seal of Biliteracy website.
Make a Report. Make a Difference 
Anonymously report  issues that concern or threaten you, your friends, your family or your community - submit a tip by visiting the Safe2Tell website or by calling 1-877-542-7233. All reports are anonymous. Not sure if you should report your concern? Visit the Reasons to Report web page.
StudentVUE and Student Grades
StudentVUE gives students and parents (ParentVue) access to school and student information, verification of contact information and more. Students use their user name and password (the same user name - student ID - and password used for email and other PSD programs). Students who have forgotten their password should contact their school. For more information about the system, visit the ParentVUE and Student Grades web page. 
Interested in starting a club at school? 
The first step is to submit this Student-Initiated and Led Organization application. 
Follow PSD Social!
Photos and videos of students and school events are featured on the PSD Instagram site, as well as the Twitter and Facebook accounts.