Over the course of the recession, Poudre School District sustained reductions and forfeited increases totaling $190 million (8 years cumulative) from FY2009-10 to FY2016-17. PSD is currently experiencing an annual deficit of $26.0 million.  This equates to approximately 11.8% less than the "spirit" of Amendment 23 calls for. (see School Finance 101 for an explanation of Amendment 23)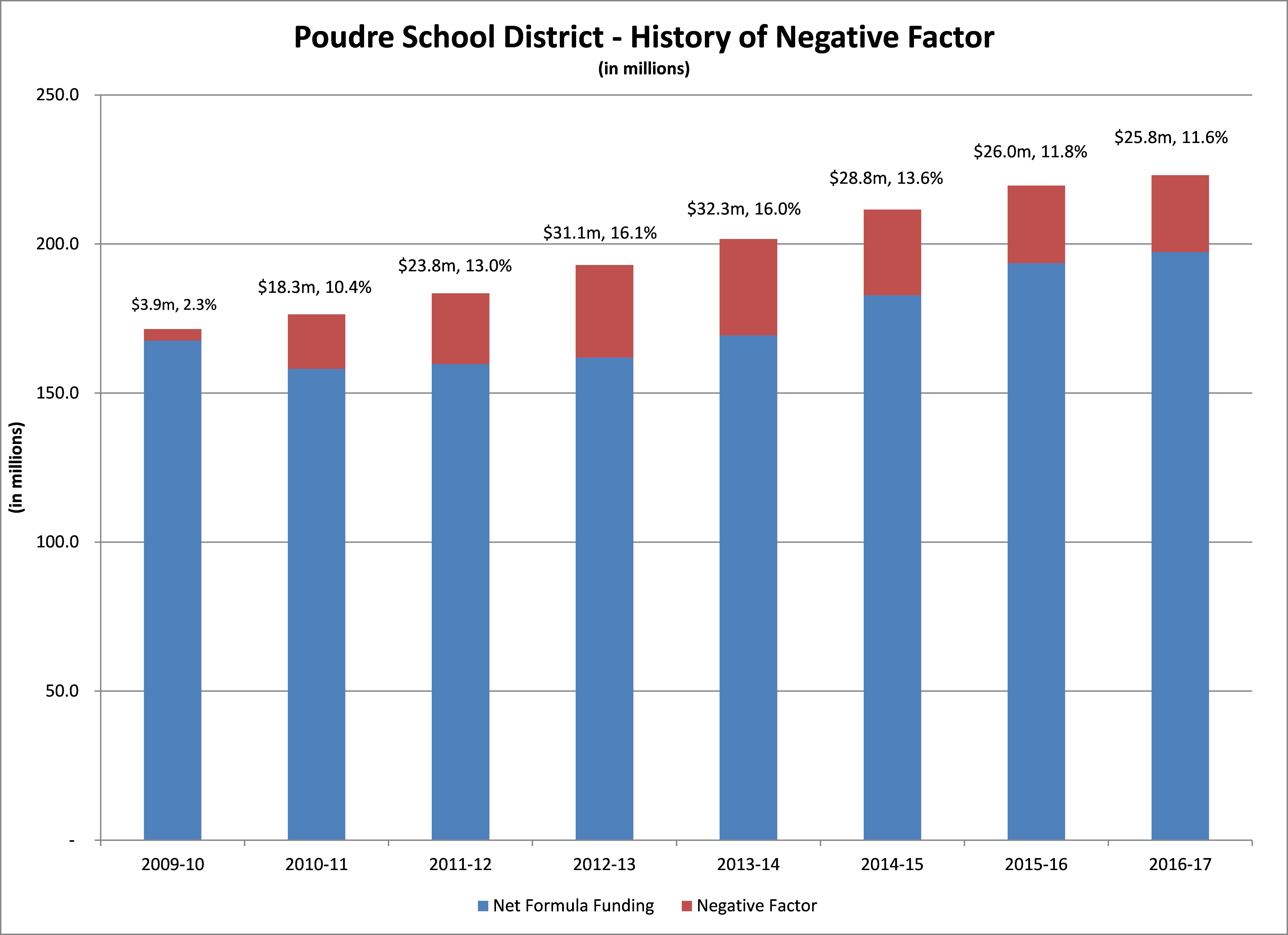 In response to these funding reductions, Poudre cut approximately $13.7 million over two years. This resulted in cutting the equivalent of 139 full-time staff. These cuts are grouped as follows: 
$4.5 million from schools, with each school cutting 4.5%. This resulted in approximately 86 fewer staffing units across all schools, of which 60 were teachers/licensed staff.  School administration was reduced by approximately 3.6 staffing units. Schools also cut operating budgets, which impacted professional development, classroom budgets, and extracurricular programs. The impact of these cuts was reduced services to families and greater pressures on the classroom.
$5 million from district departments (non-school areas), with each department reduced by 8-10%. This resulted in approximately 52 fewer staffing units in district departments.
$2 million from district department operating budgets.
$2.2 million in district level reductions, including administrative reorganization of cabinet level positions (1.0 fewer position), alignment of one-time funds for future debt payments, and adjusting restricted (or non-discretionary) budgets.  Additional budget savings were gained by closing one school (Moore ES) and reducing funding for small schools, changing bus routes, and increasing athletic fees.
To manage the lack of funding increases that would otherwise be provided under the "spirit" of Amendment 23, Poudre implemented salary freezes, held critical program and operating budgets stagnant, and did not allocate funds to new statewide initiatives.  The passage of a $16.0 million mill levy override approved by district voters in November 2010 helped Poudre weather the impacts of the recession better than most districts. However, the override did not restore all reductions taken during the recession.